NEWS RELEASE September 2018
Cleanroom Supplier Program in the Post Digital Era
The McIlvaine World Cleanroom Markets and Cleanroom Projects are the foundation of a new approach to selling cleanroom hardware and consumables. Cleanroom owners want to buy the equipment and consumables with the lowest total cost of ownership (LTCO). Suppliers would like to validate that their products are the LTCO choice. Publishers and conference organizers would like to be facilitators to communicate the relevant information. Market researchers need to understand the LTCO options in order to make relevant forecasts and properly advise clients.
We are entering the post digital era where the Industrial Internet of Wisdom will empower IIoT. Cleanroom suppliers should be out in front leading the march into the post digital era and selling a wisdom based program to their customers. The program should address each prospect in each industry and each process within that industry as well as each supplier product which will have the lowest total cost of ownership (LTCO) for the operator. This LTCO validation (LTCOV) is accomplished with collaboration and a combination of Wisdom tools which not only present the LTCO but validate it (LTCOV) by connecting with the individual purchasers. This is the route to higher sales.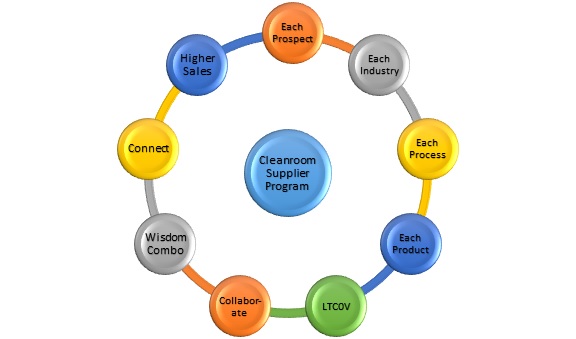 Each Prospect: McIlvaine forecasts purchases by the 100 largest owners as part of the multi-client report. Forecasts for thousands of additional purchasers in each industry are provided on a custom basis.
Each Process: Classes of cleanroom, mini environments, biological safety cabinets and other processes are analyzed.
Each Product: The range of consumables from gloves to disposable clothing and hardware from walls to filters is addressed.
LTCOV: McIlvaine provides the interconnections and background data to assist suppliers in determining that a product has the lowest total cost of ownership.
Collaboration: The interconnection with publishers, conference organizers, and subject matter ultra-experts is part of the validation process.
Wisdom Combo: Knowledge of the applications to help advise the operator on the use of the product can be expanded to remote monitoring and operational support.
Connect: Validation only comes with customer acceptance which in turn comes from interconnection with publishers, conference organizers, associations and others.
Higher Sales: Successfully validating the LTCO of the product results in not only higher sales but higher margins and profits.
For more information on the services click on N6F World Cleanroom Markets and 80A World Cleanroom Projects
For more information on the program contact Bob Mcilvaine at This email address is being protected from spambots. You need JavaScript enabled to view it. 847 784 0012 ext 122