NEWS RELEASE September 2018
McIlvaine Market Forecasting and Analysis for Treatment Chemicals demonstrated with WEFTEC Analysis
WEFTEC, being held in New Orleans, September 29 - Oct 3 is one of the largest municipal wastewater conferences and exhibitions in the world. There are surprisingly few major suppliers of treatment chemicals among the exhibitors. In fact the few which are exhibiting are part of multi product companies. GE sold its chemicals business to Suez who is exhibiting a whole range of products. Chemtreat is a subsidiary of Danaher who also is exhibiting at two stands. One is featuring the Hach instrumentation and the other featuring the McCrometer flow meters.
There are a number of good papers which address treatment chemicals. There is a big emphasis on struvite removal. Companies such as Kemira will be actively participating (but not exhibiting) as they have new solutions for struvite formation.
NAFTA is the second largest municipal chemicals treatment market behind Asia.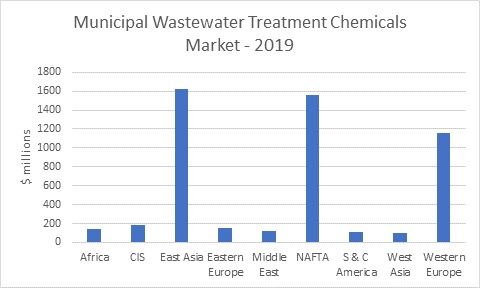 The municipal wastewater application differs from others because of the large volume of certain chemicals such as flocculants and polymers. Major producers are often supplying products directly to end users. In most other industries the specialty chemical suppliers buy bulk chemicals and then supply solutions.
A pre-show analysis of WEFTEC helps provide more insights on the Serviceable Obtainable Market (SOM) and Wisdom based Obtainable Market (WOM). The SOM would be a segment of the $5.2 billion Total Available Market (TAM) market. On the other hand the WOM market can be even bigger than the TAM.
Kemira has a solutions approach to solving the struvite problem. So their potential revenues include controls, process management and service. Suez with the GE Chemicals acquisition is integrating chemical treatment into complete process management systems and operating contracts for hundreds of municipal plants around the world.
The WEFTEC pre-show analysis covers many of the parameters which will impact total cost of ownership (TCO). The SOM is the market where the supplier can validate lowest total cost of ownership (LTCOV). Therefore analysis of the information made available at WEFTEC is important.
For more information on the treatment chemicals market click on N026 Water and Wastewater Treatment Chemicals: World Market
To view the 60 page WEFTEC pre show analysis click here