NEWS RELEASE September 2018
McIlvaine Market Forecasting and Analysis for Pumps demonstrated with WEFTEC Analysis
WEFTEC, being held in New Orleans, September 29 - Oct 3 is one of the largest municipal wastewater conferences and exhibitions in the world. There will be 50 pump companies among the exhibitors. There will also be a number of good papers which will address pump issues.
NAFTA is the second largest municipal wastewater pump market behind Asia.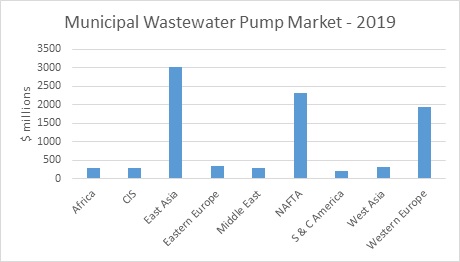 Bottom of FormA pre-show analysis of WEFTEC helps provide more insights on the Serviceable Obtainable Market (SOM) and Wisdom based Obtainable Market (WOM). The SOM would be a segment of the $9 billion Total Available Market (TAM) market. On the other hand the WOM market can be even bigger than the TAM. The WEFTEC pre-show analysis covers many of the parameters which will impact total cost of ownership (TCO). The SOM is the market where the supplier can validate lowest total cost of ownership (LTCOV). Therefore analysis of the information made available at WEFTEC is important.
One of the problems being addressed at WEFTEC is struvite removal. It is a relatively new problem caused in part by regulations which now require phosphorous removal. Understanding of the phosphorous developments is important to determining both TAM and SOM. The additional revenue from side stream phosphorous removal increases TAM. The fact that struvite problems dictate the use of one pump type over another affects SOM.
The SOM is also impacted by new developments by pump competitors. WEFTEC provides a unique opportunity to learn about these developments.
Many of the pump exhibitors are displaying "smart" pumps which incorporate a range of controls including edge process management systems. This addition generates not only additional revenues at the time of original sale but a recurring service income including remote continuous monitoring.
For more information on the treatment pump market click on N019 Pumps World Market
To view the 60 page WEFTEC pre show analysis click here