NEWS RELEASE February 2019
Asphalt and Aggregate Event and Markets
Visitors in Indianapolis next week will see lots of examples of the ability of the Industrial Internet of Wisdom (IIoW) to empower the Industrial Internet of things (IIoT) resulting in higher quality granular products at lower costs. A hot mix asphalt plant with just one operator is able to blend the optimum percentages of sand, asphalt, RAS, and RAP based on continuous moisture level analysis of the sand and other parameters. Guidance is provided not only by the process management software but by a tier of subject matter ultra-experts who have 24/7 access as needed. This includes suppliers of major components and consumables. A bag expert is periodically assuring that bag pressure drop and energy consumption is balanced with bag life extension and emission limits. He is continually assessing the data analytics and through video camera feedback is evaluating bag inspection and maintenance procedures. With more than 20 cameras located in strategic positions bin conveyor positioning, belt tracking and other processes are assessed.
The Show
The IAC-Example
The Markets
THE SHOW
Indianapolis, Indiana will host the World of Asphalt Show & Conference and co-located AGG1 Aggregates Academy & Expo February 12-14, 2019. Over 450 of the industry's leading manufacturers and service providers in the aggregate, asphalt, pavement maintenance, and traffic safety industry sectors will showcase their latest products and technologies.
The program will include many relevant combust, flow, and treat ( CFT) discussions such as a round table with Mclanahan and Superior on fines recovery. http://review.nssga.org/NovemberDecember2018/index.php#/24
Lots of CFT Products on Display (Here are some of the 450 exhibitors)
Albarrie Environmental Services manufactures a range of filtration products from bags, cages, door seals, dryer drum seals and leak detection powder to baghouse inspections, maintenance and high-efficiency filter bag cleaning.
American Fabric Filter has been supplying filter bags for to the asphalt industry for more than 15 years
BWF Envirotec is a leading supplier of filter bags for the asphalt industry. As both a needle-felt producer and bag fabricator, BWF has the ability to design felts to meet the individual requirements of each application. It provides dust collector bags, baghouse maintenance, lab services, parts and accessories.
Derrick® manufactures fine-separation technologies for the aggregates industry. Including dewatering equipment and long-lasting urethane panels.
Duechting Pumps specializes in the manufacturing of suction dredgers and solids handling pumps for the sand and gravel industry.
Eagle Crusher Company Incorporated manufactures a complete line of heavy-duty impact crushers, portable crushing and screening plants, jaw crushers, and conveyors for the concrete, asphalt, aggregate, and recycle markets.
FLSmidth AFT is a supplier of baghouse filter bags, APC replacement parts and baghouse services It provides complete bag installations, changeouts and dust collector rebuilds
Gorman-Rupp rotary gear pumps are built to handle all asphalt applications including clean, blended, emulsion or filled asphalts including abrasive, limestone/silica sand roofing material.
Haver & Boecker has launched the Tyler F-Class portable plant that includes several new technologies to improve setup time and extend equipment longevity in quarry and mining operations.
HAZEMAG offers a range of products such as: impact crushers, drying technology, hammermills, sizers, roll crushers, horizontal impact crushers, apron feeders and roller screens.
Industrial Accessories Company (IAC) designs, fabricates, and installs plants and equipment systems. As an Engineering, Procurement and Construction contract provider serving numerous industries, IAC has delivered equipment, services, and turnkey systems. IAC specializes in baghouses for in plant dust control, material handling equipment, both pneumatic and mechanical conveying, and bulk storage systems throughout the US, Canada, Mexico, the Caribbean, and Latin America.
Kolberg-Pioneer, Inc. (KPI), Johnson Crushers International, Inc. (JCI) and Astec Mobile Screens, Inc. have served the aggregate, mining, industrial, construction and recycling industries for the past 90 years. These divisions of Astec Industries offer a complete line of crushing, screening, conveying, washing and classifying, and track equipment.
McLanahan Corporation manufactures equipment that ranges from primary crushing to sand processing to water management.
Metso products range from mining and aggregates processing equipment and systems to industrial valves and controls.
PHOENIX Process Equipment provides custom system solutions and equipment for liquid/solid separation in aggregate, mining and other minerals production processing.
PSG® a Dover company manufactures pumps, systems and related flow-control solutions
Schurco Slurry® manufactures heavy-duty slurry pumps, pump parts, and provides pump services to a wide array of markets worldwide. Heavy-duty centrifugal slurry pumps are used in industries like hard-rock mining, mineral processing, power generation, aggregate processing, or any type of slurry pumping application.
Superior which became a public company in 2017 supplies crushing, screening and washing equipment. These products are in addition to a conveyor and custom plant portfolio for a complete product offering from Rock Face to Load Out.
SWECO is a manufacturer of round and rectangular vibratory separation equipment, gyratory sifters, decanting centrifuges, and a full complement of aftermarket parts and screens. For the aggregate market, SWECO offers a complete line of Gyratory Sifters.
Terex crushing & screening equipment includes the Terex® Cedarapids, Terex® Simplicity, Terex® Canica & Terex® Jaques lines.
Weir's product range incorporates brands such as Warman® centrifugal slurry pumps, Linatex® rubber products and hose, Vulco® wear resistant linings, Cavex® hydrocyclones, Enduron® comminution equipment, Isogate® slurry valves, Delta™ Industrial knife gate valves, Multiflo® mine dewatering solutions, and Trio® equipment, including crushers, screens, washers and conveyors.
Wirtgen utilizes IIoT and Remote O&M. Among many others, the main innovation of the asphalt plant Cyber UACF iNova 1200 P1 is the possibility of remote monitoring. The Ciber engineering manager, Bernard Ronchetti, explains that - through a simple software supplied by the factory - the customer can access information in real time on your computer and manage the process online. "The engineer in charge of the plant can see the same screen as the operator. With that, he is able to check the operation in real time, 24 hours a day. Access the historical production and consumption of commodities is also possible, "he explains.
Another novelty is the possibility of computer processing Recycled Asphalt Pavement (RAP) through the installation of optional components. "Recycling can reach up to 50%," explains the engineer. The percentage is quite significant, since in the United States – reference in recycling asphalt - the average is 17%.

Another innovation of Ciber UACF iNova 1200 P1 is related to fuel economy and environmental concern during the production process of the asphalt: it is possible to produce WMA (Warm Mix Asphalt). "By setting up the equipment's system it is possible to reduce the temperature 15% and maintain the quality of the mix. In addition to reducing fuel consumption, the process also reduces carbon generation", explains engineering manager at Ciber.
IAC EXAMPLE
One of the exhibitors seeking to leverage IIoW is IAC. The company recognizes the advantage of offering a range of services to owners which span the life of the plant. These can be summarized as Advise –Design-Supply -Construct- Guide- Maintain.
Advise: The company prioritizes the ability to understand the customers goals and to advise from project inception. IAC has pursued this approach by hiring as its new president, a senior executive from one of the sand and aggregate operating companies. In one recent presentation IAC Frac Sand Plant Optimization Bob Carter described a multi-step process to achieve an understanding of the various control points and the impact or change each introduces to a sustained operation. The six steps are: 1) characterization of each type of optimization. This would include water related processes such as filtering, settling and spill management. 2) Operate the plant and gather data compared to original design para. 3) Model impact of operational parameters like feed gradation on control points. 4) Develop Operational SOP's around control point optimization. 5) Measure and report results and progress at all levels of the organization. 6) Approve capital expenditures around advanced control, retrofit, design modifications, etc., targeted toward specific control point optimization.
Design: With its extensive process knowledge IAC is designing large systems for a number of manufactured sand plants as well as for clients in aggregate, cement, and steel. Understanding of components and their impact on total cost of ownership is critically needed by the designer. If there is a better fan or pump for the application it should be selected by the designer. Since these components last for a decade or more the initial design is a major factor in long term operation and maintenance.
Supply: The company has its own designs of dust collectors, pneumatic conveyors and a newly patented dual fired rotary dryer/cooler. Developments such as high temperature catalytic filter elements are routinely assessed. IAC has decades of experience in selecting and supplying all the components. The company has a number of electrical engineers creating motor control centers and is poised to take advantage of all the new IIoT opportunities.
Construct: The company has a subsidiary construction company, Adelphi which has a long proven record of delivering on time and at competitive prices. For this reason IAC has been the firm of choice for a number of owners of frac sand plants who needed accelerated construction to take advantage of the in basin trend.
Guide: The company has strong expertise and guidance programs for many components but also in meeting environmental emissions requirements. It helps with permit applications and can send a team to the site to measure fugitive emissions and help institute hardware and operational changes to achieve the desired results. The company has test rigs to help determine locations for sorbent injection for plants needing to reduce acid gas. Subject matter ultra-experts are supported by organized decision systems and are available for those clients with process management and remote monitoring systems who need advice such as the above example of bag pressure drop, life, and performance.
Maintain: The need for quick delivery of critical parts is addressed with an efficient system decades in the making which supplies 20,000 different parts and components such as valves, hose, cages, bags, and blowers. Service includes complete programs for monitoring and replacement as needed. Service includes training and operations. A program is in place to organize and rely on the continuing flow of evidence regarding component performance. As IIoT and data analytics provide even greater quantities of evidence the company is organized to utilize it.
IAC is a good example of a company who recognizes the power of IIoW to enhance IIoT and is taking advantage of the trend with a full life cycle program including Advise, Design, Supply, Construct, Guide, Maintain.
MARKETS
Asphalt
The asphalt industry represents the 4th largest market for fabric filters behind stone and cement, power, and steel. Bag sales are in excess of $300 million worldwide.
World Asphalt Fabric Filter Market - $ Million
| | | | |
| --- | --- | --- | --- |
| Subject | 2019 | 2020 | 2021 |
| Bags | 315.39 | 328.84 | 343.04 |
| Equipment | 290.23 | 302.60 | 315.67 |
| Media | 157.70 | 164.42 | 171.52 |
| Systems | 638.50 | 665.72 | 694.47 |
The global asphalt market is expected to grow at a CAGR of 4 percent during the period 2019-2021.The demand for porous asphalt is expected to increase as it not only channelizes water to flow in a desired way but has proven to be a cost-effective material. Another significant trend in the global asphalt market is the recycling of asphalt materials in highways for resurfacing.

Roughly 3,500 asphalt mix production sites operate across the United States, producing about 350 million tons of asphalt pavement material per year. Most of these production facilities are small, family-owned businesses.

In Europe, it is estimated that more than 90 percent of the 5.2 million km (3.2 million miles) of paved roads and highways are surfaced with asphalt. In the U.S., more than 92 percent of the more than 4 million km (2.5 million miles) of roads and highways are surfaced with asphalt. In addition, about 85 percent of airport runways and 85 percent of parking areas in the U.S. are surfaced with asphalt.

Aggregate

Sand, gravel, crushed stone and sediment production and treatment generate billions of dollars of annual revenue for suppliers of combust, flow, and treat (CFT) worldwide. The market in the U.S. is changing considerably due to the rapid growth in manufactured shale frac sand. CFT expenditures for manufactured frac sand plants in the U.S. will exceed CFT expenditures for all the other granular related activities.
The importance of the manufactured frac sand on the U.S. CFT market is shown in the following chart. The tons of manufactured frac sand is small but the CFT expense per ton is high. Also the growth rate will be much higher than other granular categories. As a result most of the revenue growth in 2019 will be in manufactured sands.


U.S. CFT Expenditures for Aggregate Production

Granular Type

2018
million tons

CFT Expense Ratio

Factor

%

Growth Rate %

Total Growth
2019 %

Manufactured Frac Sand

50

20

1000

45

13

5.8

Other Frac Sand

50

2

100

4

-1

0

Other Sand And Gravel

700

1

700

32

3

1

Dredging

400

1

400

19

3

0.6

Total

1200

2200

100

7.4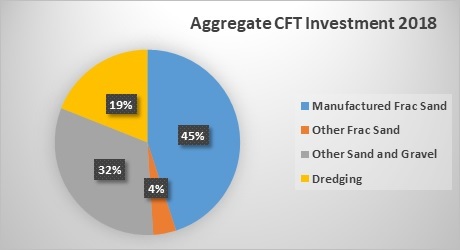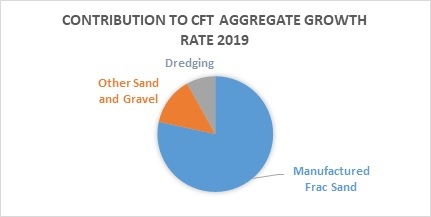 The total production of frac sands in the U.S. will exceed 100 million tons this year at an average selling price of over $60 ton creating a $6 billion market. The revenues for CFT suppliers are much higher per ton of product because much of the production is shifting to local manufactured sands. So the big cost is in the processing and not the freight.
This fundamental shift in U.S. frac sand production is away from the Midwest, home to the highest quality Northern White, to lesser-grade sands which are then upgraded (manufactured). As a result, Northern White's market share is expected to be 43 percent in 2019, down from 75 percent in 2014,
Various granular products require dry or wet processes. Some require both. These involve some combination of pneumatic or mechanical conveyors, pumps, valves, scrubbers, fabric filters, precipitators, filter presses, centrifuges, dryers, classifiers, fans, controls, and instrumentation.
In 2017, 890 million tons of construction sand and gravel valued at more than $7.7 billion was produced by an estimated 3,600 companies operating 9,400 pits and 360 sales/distribution yards in 50 States. Leading producing States were, in order of decreasing tonnage, California, Texas, Minnesota, Michigan, Arizona, Colorado, Washington, Ohio, Wisconsin, and New York, which together accounted for about 52 percent of total output. It is estimated that about 44 percent of construction sand and gravel was used as concrete aggregates; 25 percent for road base and coverings and road stabilization; 13 percent as asphaltic concrete aggregates and other bituminous mixtures; 12 percent as construction fill; 1 percent each for concrete products, such as blocks, bricks, and pipes; plaster and gunite sands; and snow and ice control; and the remaining 3 percent for filtration, golf courses, railroad ballast, roofing granules, and other miscellaneous uses.
Crushed stone, the other major construction aggregate, is often substituted for natural sand and gravel, especially in more densely populated areas of the Eastern United States. Crushed stone remains the dominant choice for construction aggregate use. Increasingly, recycled asphalt and Portland cement concretes are being substituted for virgin aggregate, although the percentage of total aggregate supplied by recycled materials remained very small in 2017.
Dredging may or may not involve more than just controls, pumps and valves. In many cases sediment is contaminated and must be cleaned with filters and separators. In the U.S. the amount of dredged material is around 200 million m3 or 400 million tons.
Region

Percent of Global Dredging Revenue

Revenue
(Million €)
Amount Dredged (Million m3)

Europe

0.12

1,284

265.29

Middle East

0.11

1,177

364.40

China

0.29

3,103

960.68

India

0.04

428

132.51

Other Asia

0.12

1,284

397.52

Africa

0.07

749

231.89

North America

0.09

963

198.97

Latin America

0.10

1,070

331.27

Australia

0.06

642

132.64

TOTAL

1.00

10,700

3,015.17
The McIlvaine Company provides market forecasts, total cost of ownership analyses, and project databases on the range of combust, flow, and treat ( CFT) subjects. You can find out more at www.mcilvainecompany.com