NEWS RELEASE August 2019
Coal Fired Plant Decisions provides Guide to Lowest Cost of Ownership
Coal fired power plants around the world have lots of common challenges but each has its unique challenges as well. Utilities, consultants and suppliers have been relying on 44I Coal Fired Power Plant Decisions for 45 years to assist them in making the best choices. In addition to the organized online systems McIlvaine is helping connect the appropriate individuals at conferences. Because of a huge expansion in the market for dry scrubbing and for upgrading precipitators a special effort will be made at four upcoming conferences.
A coal fired power plant pollution control silobuster program is being pursued to insure that Asian and African utilities can gain from the experience of the European, Japanese, and U.S. suppliers and operators. In the September-November period there will be a focus on dry FGD and precipitator upgrades. The urgency is due to a program in India which is likely to result in 60,000 MW of precipitator upgrades and 60,000 MW of dry FGD systems along with 100,000 MW of wet FGD.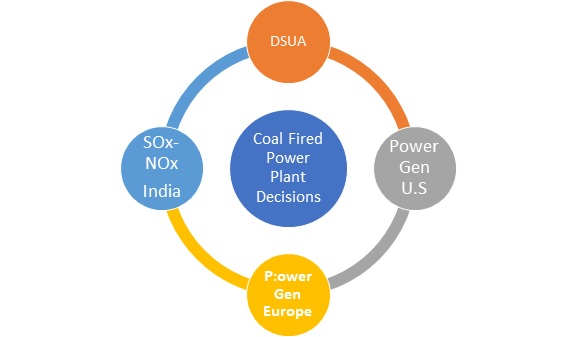 McIlvaine has been publishing 44I Coal Fired Power Plant Decisions for more than four decades. There are monthly newsletters in four areas including Fabric Filters, FGD & DeNOx, Monitoring and Electrostatic Precipitators. An intelligence system, directories, webinars and other components reflect the latest knowledge from around the world.
This service is free of charge to power plant operators and through subscription to others. A special effort will be made in the next three months to provide a forum to analyze the cost of various approaches to improving precipitator operation and utilizing dry scrubbers for coal fired power plant exhaust gas. The material in the service will provide a foundation for face to face discussions at the four conferences. It will be permanently available to operators at no cost and available to other conference registrants for a one month period coinciding with the conference at no cost.
Conference

DSUA

SOx-NOx

PowerGen U.S..

PowerGen Europe

Dates

Sept 10 -12

Sept 12 - 13

Nov 19 - 21

Nov 12 -14

Discussion

DSI, CFB, Semi Dry

FGD, Precips

Nov. 18

None

Tour Guides

None

None

Dry Scrub, Precip

Dry Scrub, Precip

Access to 44I

Operators

Free 12 months

Free 12 months

Free 12 months

Free 12 months

Other Attendees

Free 1 month

Free 1 month

Free 1 month

Free 1 month

Pre Conference Webinar

Free

Free

Free

Free

Post Conference Webinar

Free

Free

Free

Free
This free access to all attendees at each of these conferences will facilitate the discussions and stand tour guides. The DSUA and SOx -NOx conferences are relatively small so no tour guides will be needed. Discussions will be informal. Pre-conference webinars will frame the issues. The newsletters are providing the basis for discussion. The current newsletters have information on each of the exhibitors at SOx-NOx. Post conference webinars will provide the takeaways.
On Monday November 18th there will be a preconference workshop relative to advising suppliers on how to move into the international markets. Of the four speakers/instructors one is from McIlvaine and one from Tata Consultancy. Another speaker is from XMPLR addressing data analytics which when combined with remote monitoring can leverage the world's expertise in any remote region of the world where it can be valuable.
McIlvaine will be using precipitator upgrades and dry scrubbers as two examples as to how suppliers can move into markets such as India. Attendees can then utilize the tour guides in the following three days to pursue collaborative ventures in the international market.
For more information on
Coal Fired Power Plant Decisions click on 44I Coal Fired Power Plant Decisions
DSUA click on http://www.dryscrubberusers.org/
SOX-NOX http://soxnox2019.missionenergy.org/
PowerGen 2019 New Orleans https://www.power-gen.com/index.html
PowerGen Europe https://www.powergeneurope.com/
For more information on this initiative contact Bob McIlvaine at This email address is being protected from spambots. You need JavaScript enabled to view it. 847 784 0013 or cell 847 226 2391