NEWS RELEASE                                   MARCH 2011
43 Percent of the Industrial Pumps Sold This Year Will Be Installed in Asia
The world market for industrial pumps will be just under $35 billion in 2011.  The Asian sales will be 50 percent greater than in the Americas and will constitute 43 percent of the world total. These are the latest forecasts in Pumps World Market, an online continually updated publication of the McIlvaine Company.
Municipal wastewater plants will account for 23 percent of the total purchases.  Municipal drinking water systems will account for 16 percent.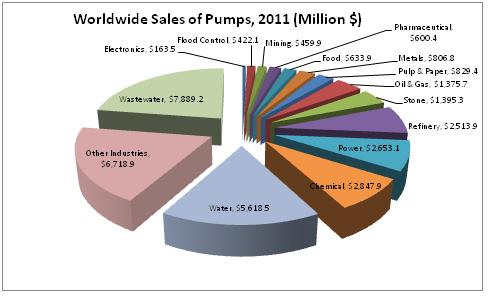 The chemical, power and refining industries will also be big purchasers.  The infrastructure needs in the developing world account for a significant portion of the demand.  Clean water is one of the highest priorities in Africa and Asia.
Asia will account for purchases of just under $15 billion this year. China will lead the way with major investments in pumps for power, water, wastewater and many basic industries.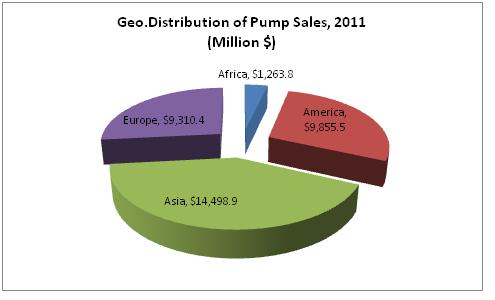 There are thousands of pump companies. China has been steadily gaining domestic capability to produce the more demanding types of pumps. Nevertheless, there are a number of major international suppliers who account for a significant portion of the total sales.
The top two suppliers account for 16 percent of world sales. The top five suppliers account for 33 percent. The five companies in slots 5 through 10 account for another 17 percent. So, in total, the top 10 companies account for 50 percent of industrial pump sales. However the bulk of the sales are by companies with much lower sales volume.  The company ranked #50 has sales of $145 million.  The company ranked #100 has sales of $38 million.
For more information on Pumps World Market, click on: http://www.mcilvainecompany.com/brochures/water.html#N019