NEWS RELEASE                                   APRIL 2011
Cross-flow Membrane Equipment and Systems Sales to Exceed $8 Billion This Year and $10 Billion by 2015
The sales of cross-flow membranes and equipment will rise to $8.6 billion this year and will increase to $10.7 billion in 2015. This is the just released revision to the online continually updated RO, UF, MF World Markets published by the McIlvaine Company.
Cross-flow membranes include reverse osmosis, nanofiltration, ultrafiltration and microfiltration. Desalination is the biggest market for reverse osmosis (RO) systems. Ultrafiltration (UF) and microfiltration (MF) membranes are also used in desalination as pre filters for the RO systems.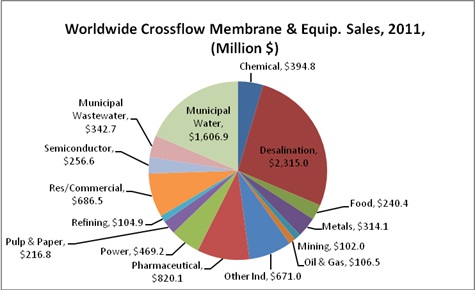 The next biggest market is municipal water treatment. Microfiltration has replaced the typical sand filter at many municipal drinking water plants. Where the water sources are contaminated, more efficient ultrafiltration and even reverse osmosis membranes may be needed. Pharmaceutical applications include process separation as well as water treatment.  Residential and commercial sales are growing rapidly as people seek to avoid the health and taste problems with existing water supplies.
Asia will be the leading purchaser of cross-flow membrane systems this year. There are big infrastructure needs, a growing population and a scarcity of pure water.  Rainfall per capita in Asia is considerably lower than in other continents. Asia is also the main purchaser of ultrapure water systems for semiconductor and flat panel display manufacturing. These systems typically incorporate several types of membranes. The Middle East has the highest per capita investment in membrane systems.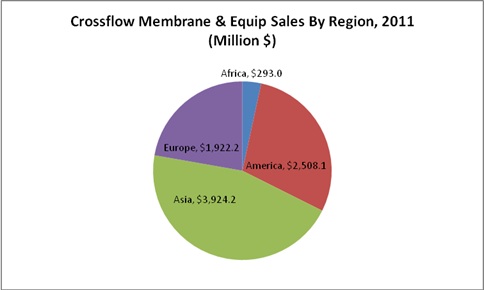 The power market in Asia is rapidly growing.  Cross-flow membranes are used in purifying the water used to make steam. They are also used in wastewater and cooling water systems. The recent nuclear disaster in Japan will not slow this market but result in a greater use of coal-fired generation. The coal plants require more cross-flow membrane investment than do the nuclear plants.
The market for equipment is more volatile than the membrane market. Membrane sales are climbing steadily while the equipment market surges and then retreats. This is due to the expansion profile of the semiconductor, power and certain other industries.
The suppliers to the industry are a mix of large and small companies, systems, membranes, component suppliers and specialists in niche industries or geographies. Some of the world's largest companies are major players.  GE and Siemens are systems suppliers. Dow Chemical is a major membrane supplier.
For more information on RO, UF, MF World Markets, click on:  http://www.mcilvainecompany.com/brochures/water.html#no20