NEWS RELEASE                                   APRIL 2011
2500 Power Plant Air Pollution Projects - A New Record
After a retrenchment period the prospects for power plant air pollution control system suppliers are now very sizable. There are over 2500 coal-fired boilers which are slated to be equipped with additional air pollution control equipment in the next eight years.  Eighty percent of these will be retrofit projects and 20 percent associated with new boilers. Forty percent of the retrofit projects will take place in the U.S. while only 5 percent of the new boiler projects will be U.S. based.  These projects are individually listed in two McIlvaine databases: Utility Environmental Upgrade Tracking System and Chinese Utility Plans.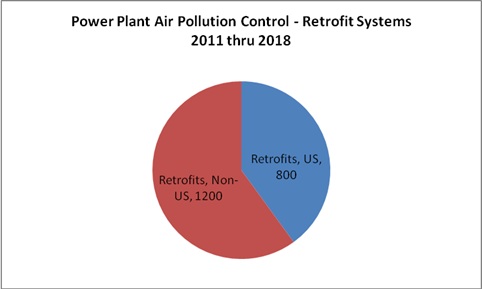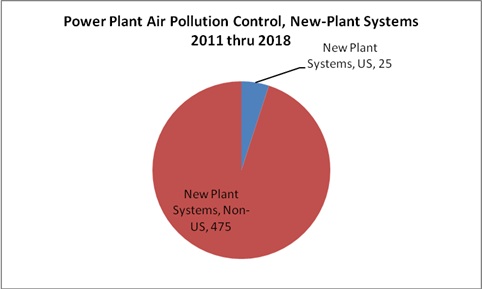 A large number of projects are being driven by the proposed new air toxic rules in the U.S.  Over 300 new fabric filters are going to be needed for the capture of mercury and fine particulate.  New coal-fired boilers in Asia will account for a big share of the dollar value of the total projects. There are a number of different types of equipment which will be installed.
Electrostatic Precipitators
A number of older precipitators will be upgraded to improve performance. New plants in Asia will mostly be equipped with electrostatic precipitators.
Fabric Filters
Fabric filters are needed to meet the new toxic rules in the U. S.   New coal-fired boilers in the U.S. and a few other countries will be equipped with fabric filters. Some projects include two fabric filters. The first filter collects the flyash. The second filter is used with chemical injection and collects mercury and sulfates.
Scrubbers
Wet limestone scrubbers are being installed in many plants around the world.  Dry and semi-dry scrubbers utilizing lime will be a sizable minority of the installations. Niche choices include scrubbing with seawater and ammonia. Some plants located near sulfuric acid purchasers are choosing to make this acid.
Chemical Injection Systems
A variety of chemical injection systems are being installed.  Injection of lime will be used to boost hydrogen chloride and SO2 capture in various plants throughout the world. Activated carbon will be injected primarily in the U.S. for mercury removal.  Halogens including bromine and chlorine will also be injected in the U.S. for mercury removal.
DeNOx Systems
Chinese power plants located in the major urban zones are being required to install selective catalytic reduction systems (SCR).  U.S. power plants will also install an additional 300 SCR systems to supplement those installed to meet a 2010 deadline.  Selective non–catalytic reduction (SNCR) will be used for some of the projects. But due to its lower reduction efficiency, it will be less popular.
For more information on Utility Environmental Upgrade Tracking System, click on:  http://www.mcilvainecompany.com/brochures/energy.html#42ei 
For more information on Chinese Utility Plans, click on:  http://www.mcilvainecompany.com/brochures/energy.html