NEWS RELEASE                                   APRIL 2011
World Cartridge Filtration Revenues to Exceed $13 Billion This Year
Sales of cartridges to purify liquids will rise to $13.7 billion in 2011 according to the most recent forecasts in Cartridge Filters: World Markets an online service of the McIlvaine Company.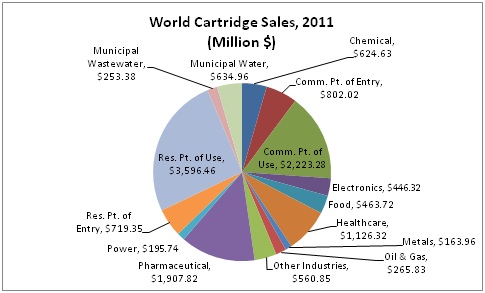 The largest market is for residential point-of-use.  This includes carbon block filters in refrigerators, pitcher filers and non-woven cartridges for tap water. The second largest market is commercial point-of-use. Restaurants, vending machines and many other commercial activities depend on reliably clean water.
The pharmaceutical industry around the world purchases nearly $2 billion worth of filters per year. The majority of these are used in processes to purify liquids or capture products. Companies such as Pall and Millipore generate significant revenues in the pharmaceutical segment.  The healthcare industry uses cartridges to filter fluids injected into patients as well as for water and wastewater.  Blood filtration is a major use of cartridges.
The municipal drinking water and wastewater plants are minor users of cartridges due to the fact that cartridges are disposable and do not lend themselves to large flows.
There are major advancements in cartridge media.  Non-woven filter media utilizing nano fibers provide higher efficiency at equivalent energy consumption compared to larger diameter fibers.  Membrane cartridges also offer advantages over conventional non-woven. Ceramic cartridges are used for high temperature applications in food and other industries.
For more information on Cartridge Filters: World Markets, click on:  http://www.mcilvainecompany.com//brochures/water.html#nO24