NEWS RELEASE                                   MAY 2011
Liquid Macrofiltration Revenues to Exceed $5.2 Billion This Year 
The sales of liquid macrofiltration equipment will exceed $5.2 billion in 2011 thanks to the rapid growth in Asia. The largest single market will be for granular media filters. These are the latest forecasts in Liquid Filtration and Media World Markets published by the McIlvaine Company.  
Granular media filters are the leading category with projected sales in 2011 of $1.5 billion.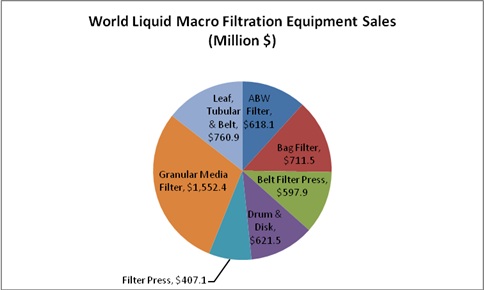 Oil and gas industry also uses this technology for purifying produced water.  Many industrial plants use granular media filters as pre-filters to more efficient final filters. Commercial and residential use includes swimming pools.
All the filtration devices grouped in liquid macrofiltration are only designed to remove particles in excess of 1 micron.  Bag filters, automatic back wash filters and granular media filters concentrate but do not dewater solids. The other devices such as belt and filter presses can dewater a five percent slurry stream to more than 20 percent solids. Typical applications are municipal wastewater sludge and coal fines.  The chemical industry uses filter presses to separate product from the carrier liquid.
Power plant scrubber systems utilize belt filters to dewater gypsum. China has installed hundreds of belt filters for this application in recent years. Each filter sells for hundreds of thousands of dollars.
Automatic back-wash filters compete with cartridges and utilize sintered porous plate or other media which can withstand continual automatic cleaning through reverse liquid flow. The market for these devices has expanded with the development of filtration media to remove particles smaller than 25 microns.
Replacement media revenues for this segment will reach $1 billion in 2011.  Replacement bags are the biggest sub segment. Filter cloths for presses are often changed daily or weekly and therefore offer a substantial revenue stream. Belts for belt filter presses can last for six months or more, but are expensive to replace.
Major players in liquid macrofiltration include Andritz, Eaton, Ovivo, Siemens and a few other large companies. There are thousands of small suppliers. They focus on specialized equipment or on specific countries or sub regions.
McIlvaine also publishes Liquid Cartridge Filters and RO, UF, and MF World Markets.  The liquid macrofiltration forecasts do not include any cartridge or cross-flow membrane revenue forecasts. For more information on Liquid Filtration and Media World Markets, click on: http://www.mcilvainecompany.com/brochures/water.html#n006