NEWS RELEASE                                   JUNE 2011
Power is the Big Growth Segment for the Fabric Filter Industry
Fabric filters have become the pollution control option of choice for incinerators, cement plants, foundries and many other industries. However, they are not widely used in power generation. More than 50 percent of all the gases discharged from stacks in the world emanate from coal-fired power plants.  More than 90 percent of these gases are purified with electrostatic precipitators and not fabric filters. This is all about to change.
The McIlvaine Company in its most recent additions to World Fabric Filter and Element Market predicts that Power, rather than be the step child of the industry, will be the hot growth market.
World Growth in Fabric Filter System & Bags Sales for Power Market ($ Million)
 
| | | | |
| --- | --- | --- | --- |
|   | 2006-2010 | 2011-2015 | 2016-2020 |
| Fabric Filter Systems |     $440 |     $1,500 | $1,400 |
| Bags |       $90 |        $400 |     $700 |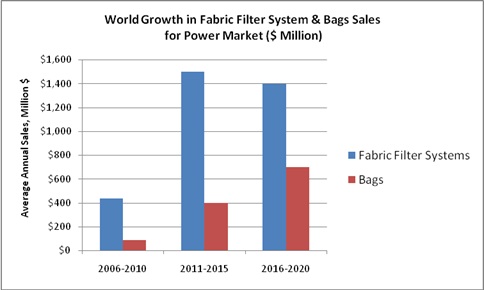 The Utility Air Toxics Rule, which has been proposed in the U.S., could result in the addition of 100,000 MW of fabric filters for coal-fired boilers. This is one-third of the entire fleet (300,000 MW).  At an installed cost of over $200,000/MW, this represents an investment of $20 billion.  McIlvaine uses a more restrictive revenue definition of 2.2 times the hardware cost to represent the average contractor revenue or system cost.   Even using this more narrow definition, the systems market would be increased by nearly $10 billion or $2 billion/yr during the 2011-15 timeframe.
McIlvaine believes that some of the EPA assumptions resulting in the very large number of fabric filters are flawed, and is therefore projecting a smaller but still very large market in the U.S.  Worldwide system sales will more than triple in the 2011-15 period to $1.5 billion/yr.  This will carry on into the 2016-20 timeframe as other countries also pass tougher particulate and mercury control regulations and force greater use of fabric filters.
Unlike the systems market which undulates, the market for the replaceable bags is a straight line. The large initial need for bags on the new systems, plus the need to supply replacements after three years will boost the power plant bag market to $400 million/yr in the 2011-15 period.  The additions to the inventory of systems will cause the 2016-20 annual bag market to rise to $700 million/yr.
There will be healthy growth in cement, steel and other industries resulting in a strong growth for the fabric filter industry over the next decade.
For more information on World Fabric Filter and Element Market, click on: