NEWS RELEASE                                   JULY 2011
150 Chemical Companies Pursuing $2.3 Billion North American Municipal Water and Wastewater Chemicals Markets
More than 150 companies are actively bidding 70 different chemical compounds to municipal water and wastewater utilities in Canada and the U.S.  The purchasers include 60,000 utilities in the U.S. and 6,000 in Canada.  These statistics were derived from three continually updated McIlvaine online services:  North American Public Drinking Water Plants and People, North America Municipal Wastewater Treatment Facilities and People and Water and Wastewater Chemicals, World Markets.
Most of the bids are for one year.  The most popular contract period is January-December and the second is July-June.  Some of the contracts are for two years and a few for five years.  Most utilities standardize on a schedule, so one can predict the next bid date based on the contract let for the current year.
Individual bids may have as many as 20 companies offering quotations.  On the larger bids there are many manufacturers offering quotations.  The small utilities typically receive bids from regional chemical distributors.  The purchased quantities vary 1000 to 1 between the largest and smallest utilities.
There are both bulk chemicals and specialty chemicals being purchased.  The bulk chemicals are purchased based on a specification of a specific compound.  Specialty chemicals are purchased based on their performance.  Utilities may limit the bidders for specialty chemicals based on their previous experience or even on trials which have identified certain products as having the needed performance characteristics.
Some chemicals which are classified as bulk are often treated as specialty chemicals.  One recent water utility rejected a bid for pebble lime of $120/ton based on previous problems with debris and purity. The winning bidder quoted $133/ton.  Other suppliers offered bids as high as $200/ton.  Some of the price variations are a function of distance between the production plant and the purchaser.
The difference in price per ton varies greatly from chemical to chemical as well as geographic location.
| | |
| --- | --- |
| Chemical | $/ton |
| Lime |    140 |
| Ferric sulfate |    200 |
| Liquid chlorine |    850 |
| Polymer  low cost | 1,000 |
| Activated carbon (powder) | 1,200 |
| Polymer high cost | 2,000 |
| Potassium permanganate | 6,000 |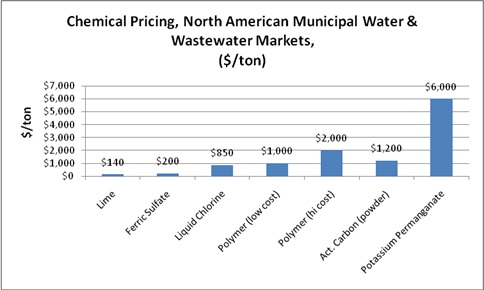 The price of a more expensive polymer at $2000/ton is 15 times higher than the cost of one form of lime.  But given different geographic locations and forms, lime can range from $100/ton to $200/ton. Potassium permanganate is more than 45 times higher priced than lime.
The total wastewater and drinking water chemical market in 2015 will be $2.37 billion for the two countries. The municipal water chemical market will rise from $752 million in 2011 to $896 million in 2015.
Country

Drinking Water

        2011

Drinking Water

    2015

Wastewater

    2011

Wastewater

    2015

U.S.

     $680

     $810

   $1,170

   $1,404

Canada

     $  72

     $  86

   $     62

   $     75

U.S. and Canada

     $752

     $896

   $1,232

   $1,479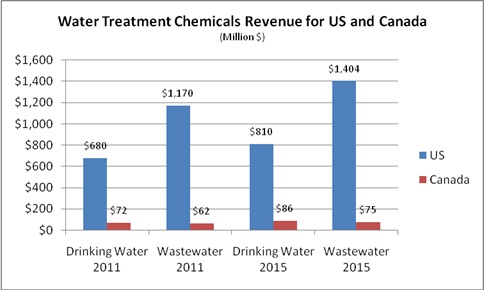 The wastewater chemical market will rise from $1.23 billion to $1.48 billion during the next four years.
For more information on: North American Public Water Plants and People, click on:  http://www.mcilvainecompany.com/brochures/water.html#67ei
North America Municipal Wastewater Treatment Facilities and People: http://www.mcilvainecompany.com/brochures/water.html#62ei
Water and Wastewater Treatment Chemicals: World Market http://www.mcilvainecompany.com/brochures/water.html#NO26