NEWS RELEASE APRIL 2013
Thousands of Projects Worth Hundreds of $ Billions in Booming Oil and Gas Industry
Depending on the definition, the number of opportunities in the oil and gas sector ranges from a few thousand to over one million. At the top end, there are single projects where the investment will exceed $10 billion. This is the conclusion reached in Oil, Gas, Shale and Refining Markets and Projects published by the McIlvaine Company.
| | |
| --- | --- |
| Segment | Number |
| Operating gas and oil wells | 1,000,000 |
| Well completions in 2012 | 105,000 |
| Rigs in operation | 3,500 |
| LNG trains in operation | 100 |
| Current LNG projects | 20 |
| Current operating large gas-to-liquids plants | 10 |
| Large gas-to-liquids projects | 10 |
| Smaller gas-to-liquids projects | 100 |
| Liquid separation from natural gas projects | 200 |
| Coal to chemical new projects | 50 |
| Refineries in operation | 700 |
| New refineries in planning and construction | 40 |
| Refinery upgrades and environmental projects | 1,000 |
| Tar sands expansion and new projects | 15 |

Existing gas and oil wells need pumps, valves, compressors, instrumentation and control equipment. Accuracy is needed due to the custody transfer and value of the products. Despite the large number of existing wells, the major capital investment is in a relatively small number of large projects.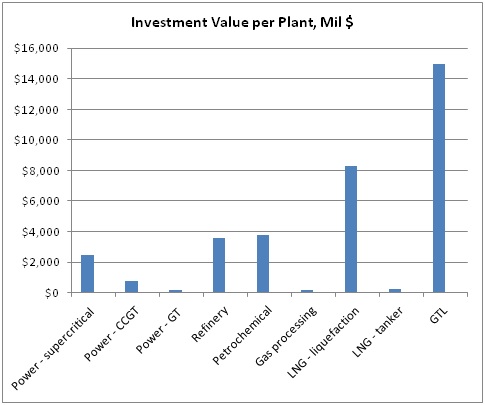 Some of the investments in the oil gas industry are even larger than the investment in a new supercritical coal-fired power plant. The gas-to-liquids plant now underway in Louisiana will cost Sasol more than $10 billion. New refineries, LNG and tars sands plants are all multibillion dollar expenditures. Much of this is for liquid and gas flow and treatment equipment. In addition, the tar sands plants have big investments in material handling.
With the shale gas and liquids boom there are many projects to separate liquids from gas. Conversion of coal to chemicals is attracting billions of dollars of investment. China is the leader with both direct and indirect gasification processes.
McIlvaine tracks the projects and provides market forecasts in Oil, Gas, Shale and Refining Markets and Projects.
For more information on Oil, Gas, Shale and Refining Markets and Projects, click on: http://home.mcilvainecompany.com/index.php/component/content/article?id=72#n049