NEWS RELEASE MARCH 2014
Oil and Gas Industry Will Spend Over $10 Billion for Valves In 2015
For the first time, the upstream oil and gas industry will spend more than $10 billion for valves in a single year. In 2015, the expenditure will be $10.3 billion. This includes valves purchased for oil and gas extraction. It includes those used in unconventional extraction such as from sub-sea shale and oil sands. The forecast also includes valves used in LNG and gas-to-liquids plants. The analysis appears in Industrial Valves: World Markets published by the McIlvaine Company.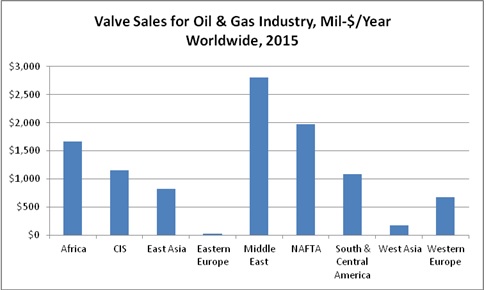 * Revenue values include valve and valve actuator when actuator is supplied with valve by valve manufacturer.
The Middle East remains the historic leader, but NAFTA will be a close second. The U.S. shale gas and oil expansion and the Canadian tar sands investments are providing substantial valve markets. These forecasts do not include refineries. However, the lower quality crudes being extracted in NAFTA are spurring investments in refinery valves due to upgrades.
A larger percentage of the valve spend is now directed at control of water and wastewater. Hydraulic fracturing requires extensive valving. Up to 30 chemicals along with sand are mixed with water prior to injection. The flowback water in many states cannot be discharged into underground storage. It is too contaminated to be treated by conventional sewage treatment plants. The result is a significant treatment investment.
The shale gas boom is resulting in LNG and gas-to-liquid plant construction. Large numbers of valves are required to operate these plants.
For more information on Industrial Valves: World Markets, click on: http://home.mcilvainecompany.com/index.php/markets/2-uncategorised/115-n028