NEWS RELEASE MARCH 2014
Asian Purchases of Liquid Cartridges Will Exceed $5.4 Billion In 2015
Sales of cartridges to remove particulates from liquids will exceed $5.4 billion in 2015 in Asia. This is the latest finding in the McIlvaine Company Cartridge Filters: World Market.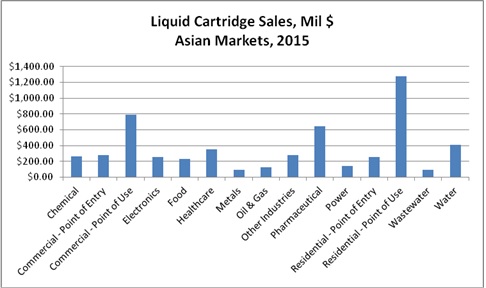 The biggest market will be in residences at the point-of-use. Refrigerator and under-sink units are included in this category. The large market is a function of the following:
Large and growing population
Migration from rural to urban
Construction of new residences
Increasing wealth of the inhabitants
Increasing awareness of health risks
Poor quality of municipal water
There is a substantial commercial market spurred by the office construction boom in China. The healthcare segment is large. This is due to the increasing healthcare expenditures for more than half the world's citizens. There is substantial growth in the pharmaceutical sector due to the construction of generic drug manufacturing plants in China and India by the international drug companies.
These forecasts include only the dead-end cartridges and not the cross-flow membrane modules. Also excluded are self cleaning filters.
For more information on Cartridge Filters: World Market, click on: http://home.mcilvainecompany.com/index.php/markets/2-uncategorised/117-n024