NEWS RELEASE JULY 2014
Granular Media Filters Will Account For 26 Percent of the $6.6 Billion Liquid Filtration Market In 2015
Sales of macrofiltration equipment and consumables will reach nearly $6.6 billion in 2015. The granular media segment will generate revenues of $1.7 billion or 26 percent of the total, this is the conclusion reached by the McIlvaine Company in Liquid Filtration and Media World Markets.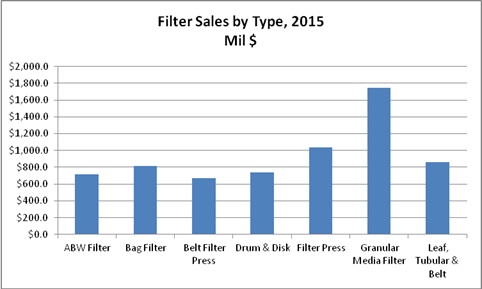 The largest use of granular media filters is in drinking water plants. However, they are used for pre-filtration of intake water at many industrial plants. They are also used to purify wastewater. The second most popular filter type will be filter presses. This design is used to dewater products and waste. Filter presses are capable of converting 5 percent slurry to moisture levels below 10 percent. The presses are widely used in the chemical industry where the substance dewatered is the chemical product.
Automatic backwash filters represent the category with the largest growth over the last twenty years. These units are capable of removing particles as small as 25 microns in diameter. Amiad and Eaton are leading suppliers of this filter type.
Belt filter presses are primarily used to dewater municipal sludge. Small numbers are also used in coal mining. The food industry also uses these presses to dewater wastes. Bag filters are used where small particles must be removed from liquids which contain relatively small quantities of solids. Unlike the other filter types, the bags are not cleanable.
For more information on Liquid Filtration and Media World Markets, click on: http://home.mcilvainecompany.com/index.php/markets/2-uncategorised/118-n006