NEWS RELEASE NOVEMBER 2014
Huge Air Pollution Market Shift Away From OECD
Established OECD air pollution companies face a monumental challenge as the market shifts to other regions. This is the conclusion of the McIlvaine Company in Air Pollution Management. (www.mcilvainecompany.com)
The shift away from OECD is demonstrated by viewing the market in percentage terms. The world market in 2000 is 100 percent. All other years are shown as a percentage of 2000 and normalized to 2000 dollars. There has been a huge growth from just 8 percent of the 2000 market in the 1960s to a projected 230 percent in 2030.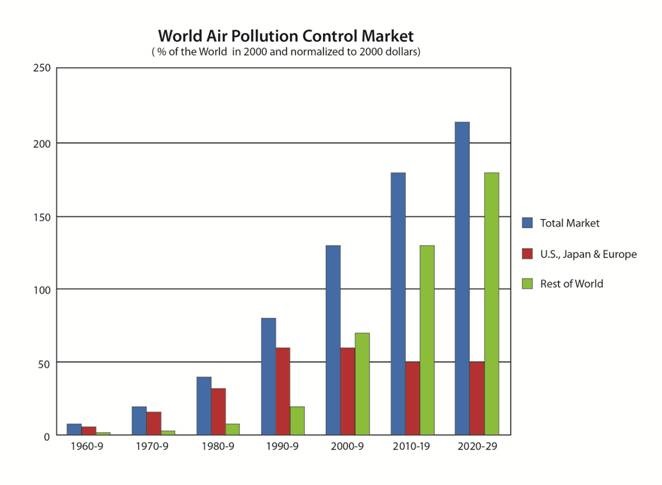 The OECD countries including the U.S., Japan and Europe enjoyed most of the air pollution market prior to 2000. The market share went from 75 percent in the 1990s to just 46 percent a decade later. In the present decade, the market share will drop to 28 percent. In the 2020-29 period, the market share will shrink to just 22 percent.
The major markets of the future are in Asia. Coal combustion will remain the largest single application for air pollution control. China already combusts 33 percent of the 9 billion tons of coal burned worldwide each year. The country plans to convert another 1.5 billion tons to synfuels and chemicals. This conversion initiative alone is equal to 20 percent of the entire world air pollution control 2000 market. If it takes place over five years, it will increase the world market by 4 percent each year.
The market in the 1960s was primarily particulate control for power plants, foundries, steel mills and heavy industry. Starting in the 1970s, removal of acid gases such as SO2 and HCl greatly expanded the market. In the 1980s, NOx control became a big market. Today mercury and air toxic reduction is the area of greatest expansion.
The market growth in ROW is a combination of industrial expansion and regulation of emissions. In China, the emission limits are similar to those in OECD. Some other Asian nations are behind China but moving forward with programs.
Some of the traditional OECD air pollution equipment companies have disappeared through mergers or even bankruptcy. Others have prospered by expanding their international scope. Because of the size of the Chinese market, it will be difficult for any international supplier to succeed without some activity there. One route has been cross licenses. MET licenses wet SO2 scrubbers in China and is the licensee for a Chinese dry scrubber technology. Increasingly, Chinese companies will join the ranks of international suppliers and pursue the OECD markets.
For more information on Air Pollution Management, click on: http://home.mcilvainecompany.com/index.php/markets/2-uncategorised/100-5ab