NEWS RELEASE July 2021
Forecasting Markets Based on EBITA Not Revenues
A valve, pump, or cartridge company can accurately forecast labor and material costs based on many millions of digital inputs, analyses and aggregations. The approach of first forecasting total cost and then segmenting by individual product is unworkable. But too often this is the market forecasting approach.
It is commonly assumed that there is a total market forecast number readily available. This can then be used to forecast a segment. The reality is that even present and past revenues have to be calculated at a granular level and then aggregated.
Management relies on sophisticated cost forecasting for each product to make its projections. There would be benefits to do the same with markets.
Cost forecasting relies on supplier price assumptions. Market forecasting should be based on specific EBITA for each product. $300 billion per year is spent on flow and treat products and services based on performance. Higher performing products can achieve higher prices and EBITA.
Cost forecasting takes into account the production capability of each machine. Market forecasting should provide reliable targets for each salesman. These targets should be continually adjusted.
Here is a sample of the level of detail which can be incorporated.
Geography: Indonesia
Application: Oil and gas pipelines – mid stream
Valve type: Ball, sub type - trunnion
Size : 1"-12", 14"-36", 38"-54"
Competitor: Market share, TCO factors
Price/unit: Includes EBITA based on price/volume analysis
Forecasts expanded based on already available excel spreadsheet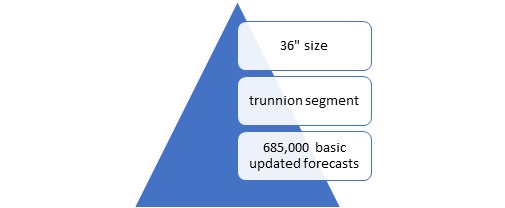 If the basic forecasts are available it is relatively easy to add segments such as support, size and even entry (top or side).
It should be noted that the market for high performance products depends on value based pricing. The future market is partially determined by the supplier. The best example is single use valves, pumps, and filters in cell and gene therapy. A big increase in purchases is offset by productivity increases not deterred by cleaning downtime.
3M doubled the market for HVAC filters by inventing an electrostatically charged filter media and then validating the health benefits to home owners. But 30 years later this market is in flux with the advent of nanofibers. The validation status of this product and other flow and treat products is covered at http://home.mcilvainecompany.com/index.php/30-general/1658-holistic-content-marketing-program
McIlvaine market reports are a good starting point for the detailed analyses needed. There are reports in each of many areas of flow and treat. There are 685,000 valve forecasts which are continually updated and provided in excel format . Details on these reports are found at www.mcilvainecompany.com and then "Markets"
McIlvaine can also provide any level of further analysis. Bob McIlvaine can answer your questions at 847 226 2391 and email This email address is being protected from spambots. You need JavaScript enabled to view it.