NEWS RELEASE NOVEMBER 2016
Market for Fabric Filter Systems Will Exceed $9 Billion Next Year
Fabric filters also known as baghouses capture dust from exhaust stacks. The basic system includes the collector, a bag cleaning system and other auxiliaries. Sales of these systems worldwide in 2017 will exceed $9.2 billion. This is the latest forecast in McIlvaine'sN021 World Fabric Filter and Element Market.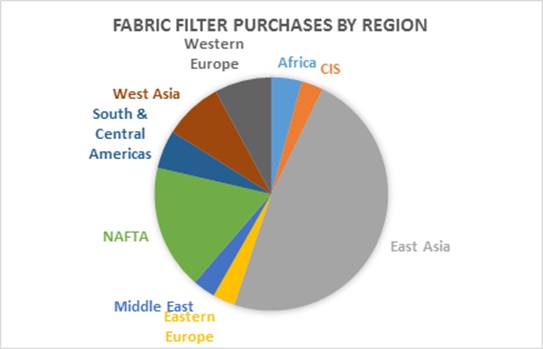 The largest market will be in East Asia with NAFTA a distant second. The products can be segmented into high performance and general performance. There is a very large market for standard collectors such as furnished by AAF and Donaldson. These general performance filters handle ambient temperature exhausts from sources such as woodworking and welding. High performance filters are found in hot gas applications and are generally custom engineered.
The cement and other stone applications represent the largest market segment. Power plants are now in second place. In the past precipitators were always selected for this application but recently fabric filters have gained market share. This is due to their higher efficiency.
| | |
| --- | --- |
| 1 | Stone |
| 2 | Power - New |
| 3 | Steel |
| 4 | Other Industries |
| 5 | Power - Retrofit |
| 6 | Asphalt |
| 7 | Mining |
| 8 | Metals |
| 9 | Chemical |
| 10 | Incinerators |
| 11 | Pulp & Paper |
| 12 | Food |
| 13 | Industrial Power |
| 14 | Pharmaceutical |
For more information on N021 World Fabric Filter and Element Market, click on: http://home.mcilvainecompany.com/index.php/markets/2-uncategorised/110-n021