NEWS RELEASE NOVEMBER 2016
Market for Fabric Filter Resins Adhesives, Fibers, Coatings and Binders to Surge to more than $1 Billion by 2023
A switch from precipitators to fabric filters for the capture of dust from coal-fired boilers will boost sales of media and other components purchased by filter element suppliers to $2,250 million in 2023. The resins, adhesives, fibers, coatings and binders purchased by media suppliers will generate revenues of $1,125 million. This is the conclusion of the McIlvaine Company in World Fabric Filter & Elements Market.
The forecasts for components has been derived from the purchases at each level. The filter element supplier purchases are calculated as a percentage of revenue. The same approach is used in calculating the resins and other items purchased by the media manufacturers.
Fabric Filter Filtration Revenues 2023 $ Millions

Product

World
New
All Industries

Replacement Bags
All Industries

Coal-fired Power
New Systems

Coal-fired Power Replacement Bags

Total

Systems

13,000

4,000

Equipment

6,000

2,500

Filter Element

1,500

3,000

400

1,000

4,500

Filter Element Value Added

750

1,500

200

500

2,250

*Level 2
Sales

750

1,500

200

500

2,250

*Level 2
Value Added

375

750

100

250

1,125

**Level 1 Sales

375

750

100

250

1,125
* Level 2: media, end caps, spacers, adhesives,
**Level 1: resins, adhesives, fibers, coatings, binders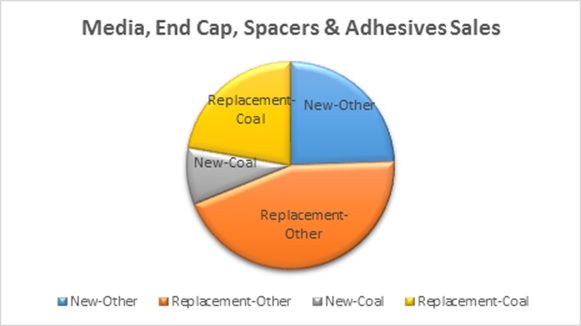 If all the coal-fired boilers in the world switched to fabric filters, the market for media, resins, etc. would double, much of the resin growth will be in PPS.
One recent market report emphasized that automotive growth would drive global polyphenylene sulfide (PPS) market demand from 80,000 tons in 2014 to 140,000 tons by 2022, growing at a CAGR of 7.3 percent from 2015 to 2022. This would result in revenue of $1.6 billion in 2022. This does not take into account the surge in coal-fired power plant use which would be hundreds of millions of dollars. Several years ago, Lumena projected a Chinese market for PPS for hot gas applications at 50,000 tons per year. This assumed a substantial number of Chinese coal-fired power plants switched to fabric filtration. This has not yet happened.
Instead of starting with resins and media production and analyzing the growth in each industry, it is desirable to start with the end users and determine their demand requirements in the future. McIlvaine is pursuing this approach in all its filtration market reports.
Click for information on N021 World Fabric Filter and Element Market
Click for information on all the McIlvaine market reports. Markets